Mountain Bike Trails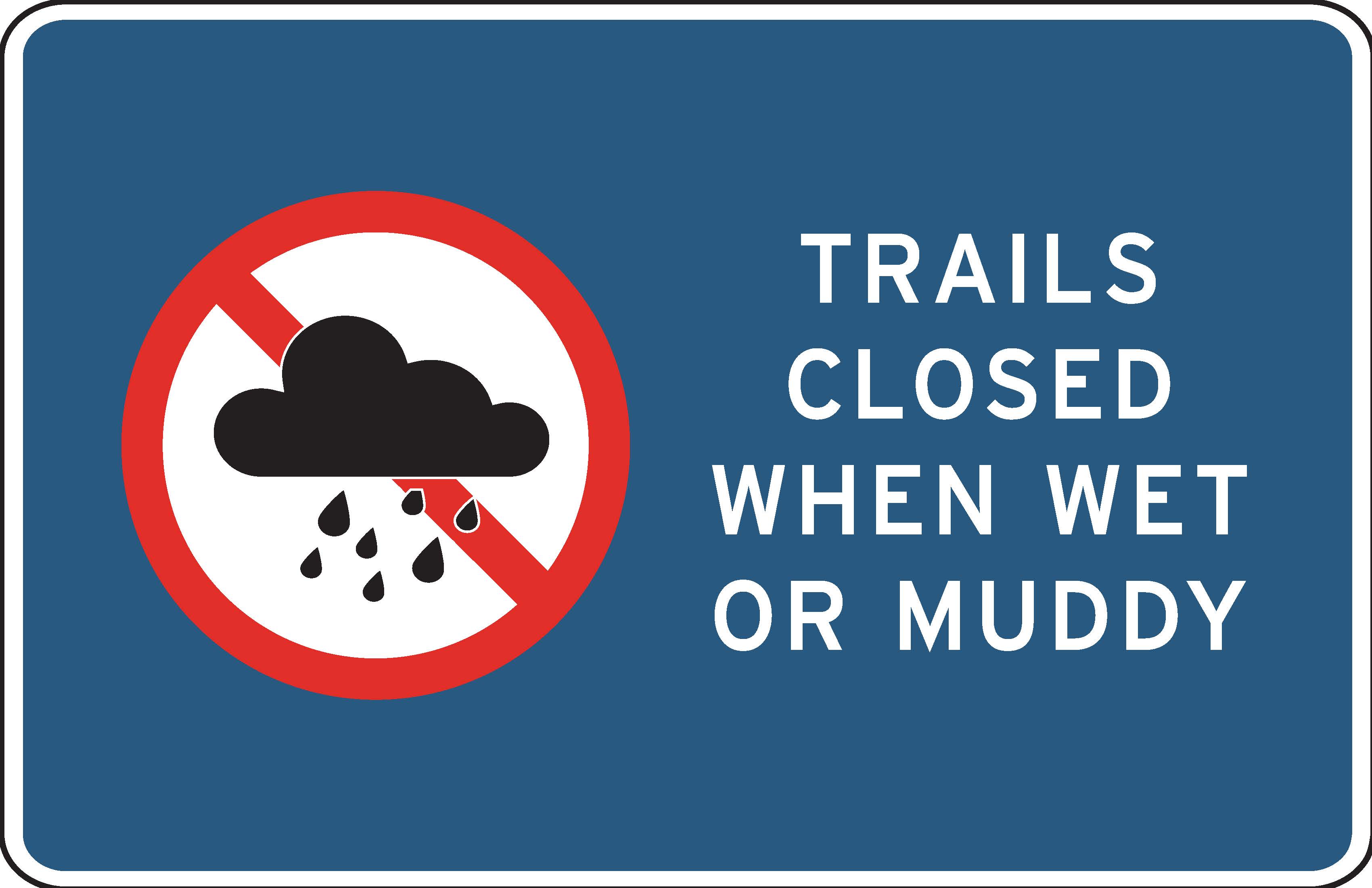 Trails typically take 24-hours after a rainfall event to reopen.
Trails should not be used during wet weather or when trails are soft/muddy. If leaving footprints or tire-ruts, please turn around.
Click HERE for Online Parks and Trails Map

Trails Conditions (open/close status)
We appreciate your patience in allowing trails to dry before use. When trails are closed because of construction, maintenance, events, or weather we ask that you obey any closure signs and detours. These closures are in place for your safety and for the protection of our trails. Open/Close determinations are made in cooperation between City staff and volunteers from community non-profit organizations. These staff, in addition to volunteers from DAHTA, SHTA, and COGGS, have completed training/certification in trail design, construction, and maintenance best practices. Each organization has designated Trail Stewards to help evaluate and determine current trail conditions. 
Winter Trail Use
During the winter, if single track trail is freshly groomed after snowfall, the best practice is to wait until the surface has hardened or setup prior to usage. This prevents deep foot prints and rutting on the trail surface. In hard-packed snow conditions, the best practice is to only use the trail if you are not breaking through.
Seasonal Closures
Duluth has many miles of natural surface trails for hiking, mountain biking, and cross-country skiing. During annual freeze/thaw cycles in the Spring/Fall, our trails are especially susceptible to damage due to wet conditions. Footprints and tire ruts on wet trails can cause significant damage, while increasing trail maintenance costs. Natural surface trails are closed each Spring/Fall until they are dry enough, or frozen enough, for use without damage. During these periods the paved or hard surface trails are a good recreation option.
Maps:

Click here for Duluth Mountain Bike Trail Maps by TrailForks
City of Duluth Mountain Bike Trails
Although purpose built for mountain biking these trails are intended to be multi-use, and are open to all human-powered users.
In addition to mountain bikers, trail users include: runners, hikers, dog walkers, fat tire winter bikers, snowshoers and backcountry skiers.
---
Duluth Traverse
Skill Level: Beginner/Intermediate
Trail Length: 42 miles (including segments within below trail areas)
Location: City Wide
The Duluth Traverse is a multi-use trail system linking neighborhoods and people to green spaces and our parks. It is a single-track, natural surface trail, purpose built for mountain bikes, stretching the entire ridge line of Duluth from Lester Park in the east to Chambers Grove Park in the west.
For project updates, please visit our Duluth Traverse Parks Planning page.
---
Mission Creek
Skill Level: Beginner/Intermediate
Trail Length: 23 miles
Location: Mission Creek Trailhead Parking, Duluth MN

 

Directions: From Northbound Interstate 35, exit right to Hwy 61 to Becks Road [3]. Alternatively, exit right on Midway Road (turns into Becks Road [3]). Follow to Commenwealth Ave (Hwy 23) and turn right. The trailhead is near Hwy 210; parking is construction dependent in 2016.

If you're traveling south from Duluth, exit on Grand Avenue (Hwy 23) and follow to the trailhead.
---
Hartley Park


Skill Level:

 Beginner/Intermediate


Trail Length:

 12 miles


Location:

 3001 Woodland Ave, Duluth MN
Directions:

 From Interstate 35 take 21st Ave E up the hill. Take a Right on Woodland Ave and travel two miles to the entrance for Hartley Nature Center, which will be on your left. An alternate entrance with limited parking is at the end of Hartley Rd, which can be found off Arrowhead Rd.
---
Lester Park
Skill Level: Intermediate (but 90% non-technical)


Trail Length:

 12 miles


Location:

 Lester Park Parking Lot, Duluth MN
Directions: From Interstate 35 merge to London Rd. Take a left on 60th Ave East. Turn right on Superior Street, then left on Lester River Road. Parking is on the left.
From Highway 61, exit on East Superior Street. Take a right on Lester River Road; parking is on the left.
---
Piedmont and Brewer
Skill Level: Intermediate/Advanced


Trail Length:

 13 miles 


Location:

 Piedmont Trailhead Parking, Duluth MN
Brewer Trailhead Parking, Duluth MN

Piedmont Directions: From I-35, take Hwy 53 (21st Ave West Exit) to Piedmont Avenue and take a left. Then take your 2nd left onto Hutchinson Rd and follow to the marked parking lot.

Brewer Directions: From I-35, take the exit on 40th Ave West and proceed north. Follow 40th Ave as it turns into Haynes road and winds up the hill. Either take a left on W Skyline Parkway and park, or continue about 1/3 mile and park in the small lot on the right.
---
Spirit Mountain
Skill Level: Beginner/Intermediate/Advanced


Trail Length:

 Lots of Gravity


Location:

 Grand Avenue Chalet Parking, Duluth MN

Directions:

Although trail access is available at the Adventure Park near the top of Spirit Mountain, tickets, parking, etc. are located at the Riverside Chalet located on Grand Avenue (HWY 23).
To make the trail experience enjoyable for all users, here are some trail etiquette suggestions:
Have fun and share the trail!

Show courtesy to other trail users. A smile, a nod and a "hello" goes a long way.
Don't block the trail. Move to the side of the trail when taking a break.
Use the right side of the trail except when otherwise designated. Pass carefully on the left, and give an audible warning when you're about to pass.
Always use safe speeds.
Respect wildlife.

Travel on open trails only. Respect all trail and road closures and don't trespass on private land.

Stay off wet and muddy trails. Do not leave footprints or tire ruts.
Use low tire pressure (as low as 2-4psi) during soft snow conditions.
Stay off freshly groomed trails during the winter until they set up or harden.
Don't "post hole" or leave tire ruts.
Stay on existing trails. Don't cut switchbacks and avoid walking on the sides of trails which negatively impacts vegetation along the trail and causes trail widening and braiding.

Leave no trace.

Be a responsible dog owner. Dogs must be on leashes except in designated dog parks. Please clean up after your pets.
Don't allow your dog to trip or jump on other trail users.
Pack it in, pack it out. Always pick up your (and others) trash. Don't litter.
No campfires.
Leave what you find: rocks, plants, and other natural objects as you find them.

Plan ahead and prepare.

Know your route.
Check trail conditions and closures before you head out.
Bring appropriate gear and attire for the weather and duration of your outing.
Let someone know where you are going and when you plan to return.

Get involved!

Many of Duluth's trails are cared for by nonprofit partner groups and volunteers.
Head to the Trail Partners page to find ways to volunteer and donate what you can.