Cross Country Ski Trails

City of Duluth Ski Trails are supported by the nonprofit community partner Duluth Cross-Country Ski Club (DXC)
The Great Minnesota Ski Pass is required for all City of Duluth Parks
Trail Grooming Update:
Check here, or call our Ski Trail Grooming Hotline for the most recent available grooming updates: 218-730-4336
Magney Snively
Fair, Groomed
03/28

Piedmont
Fair, Groomed 
04/06

Chester 


Fair, Packed
03/29
Hartley
Fair, Groomed
04/06
Lester Trails
Fair, Groomed
04/07

Lester Golf Course
Fair, Groomed
03/24
Updates Are Only Posted When Grooming Occurs
CONDITION DEFINITIONS
Good: Firm pack and/or tracks recently set, no bare spots and track is firm
Fair: Minimal bare spots, minimal icy spots, track and/or pack deteriorated over some of the trail
Poor: Track and/or pack deteriorated over much of the trail, some portions of trail may be closed, icy spots beginning to affect skiability, bare spots on at least 10 percent of trail
Closed: Lack of snow, dangerously icy conditions, or maintenance work in progress
GROOMING DEFINITIONS
Packed: Trails are packed for skate skiing.
Tracked: Tracks are set for classical skiing.
Groomed: Trails are packed for skate skiing, and tracks are set for classical skiing.
Ungroomed: Trails are not packed or tracked. Break your own trail.
Click HERE for Online Parks and Trails Map
---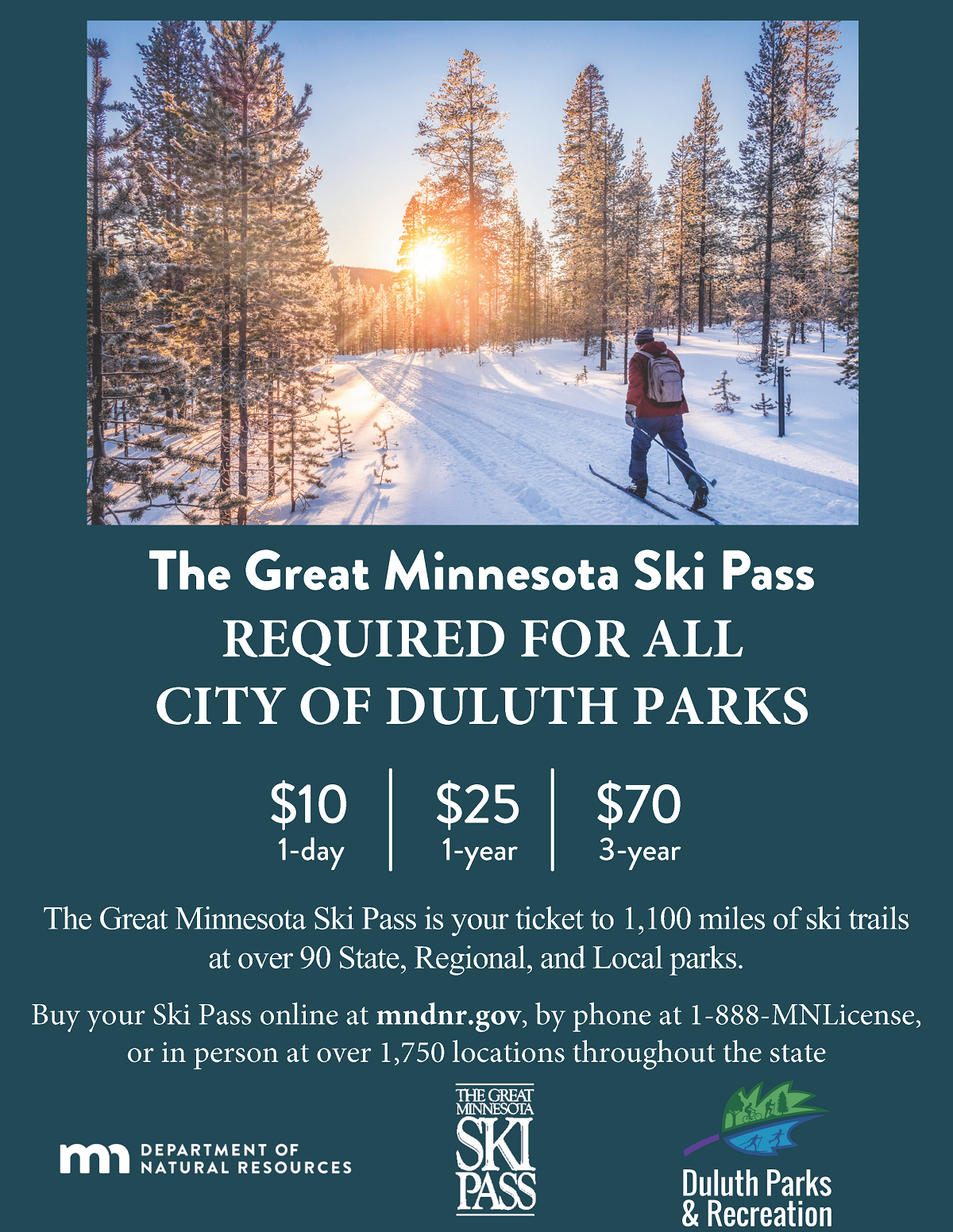 City of Duluth XC-Ski Trails
(Click the trail name for downloadable PDF maps of the trails)
Magney-Snively: This hilly 13-kilometer trail has a classic track and a skate lane and is best for intermediate and advanced skiers. The trail winds from Snively Park to the city limits and adjoining Magney Park, each of which has a stunning overlook. It's accessed two miles past Spirit Mountain on Skyline Parkway, just past the dragon's-tooth stone bridge or from Spirit Mountain XC via the Connector.  There are two tricky parts. A snowmobile trail cuts through Ely's Peak Loop, and the one-way ski trail looks as if it ends there, but it continues across the snowmobile trail and just to the right. And at the end, there's a steep downhill that ends in the road; beginners should take off their skis and walk.
Piedmont: This 5.5-kilometer trail in the hills near Enger Park, off Hutchinson Road (accessed from U.S. 53/Piedmont Avenue), is mostly double-tracked for classic and includes an overlook of the St. Louis River valley. There is a 1-kilometer easy loop which is groomed for skate and classic.  In general the trail is not too hilly and is good for beginners and intermediates though there are also a couple more challenging loops.
Chester Park: This is a challenging 3-kilometer trail, groomed for skate only.  It is tucked away near the College of St. Scholastica, off Skyline Parkway in a residential neighborhood. The longtime hub of Duluth's winter sports, the Bowl includes a lift-served downhill ski hill operated by the Chester Bowl Improvement Club, offering downhill lessons and seasonal rentals. 
Hartley Park: These wooded loops, in a residential neighborhood, include 5 kilometers of double-tracked classic trails. There's a hilly outer loop and a gentler inner loop, good for families and beginners. Hartley Nature Center rents skis and snowshoes. You can snowshoe on the Superior Hiking Trail, which loops through the park. The Nature Center trailhead is north of UMD, off Woodland Avenue – turn left about ¼ mile after Fairmont Street.
Lester-Amity: This 15-kilometer trail (counting the Golf Course loop), groomed for skate and classic, is the most popular trail in town, easily reached from East Superior Street at 61st Avenue.  In early morning and evening, 4 kilometers are lighted. The adjoining 4-kilometer loop on the Lester Park Golf Course is good for beginners and skijoring. The Lester/Amity Chalet is operated by the Duluth Cross-Country Ski Club, and open daily throughout the season.
Spirit Mountain (Upper Trails): The upper trail system at Spirit Mountain features 22 kilometers of beautifully wooded cross-country ski trails, double tracked with a skate lane. Located at 9535 West Skyline Parkway, just past the main entrance to Spirit Mountain.  A small chalet provides a changing area and restrooms.  No rental equipment available.  Ski trails are open dawn to dusk. The Duluth Cross Country Ski Club (DXC) is responsible for maintaining and grooming the Upper Spirit Trail System, grooming and coordinating its use by various groups.   
Grand Avenue Nordic Center (Spirit Mountain): GRAND AVENUE NORDIC CENTER (GANC) is a transformative new cross-country ski center in Duluth MN that features newly designed trails, Nordic-dedicated snowmaking, daily grooming, and a full-service chalet, located at the bottom of Spirit Mountain. The Grand Avenue Nordic Center is operated by Spirit Mountain, please visit their webpage for more information. 
---