Duluth Traverse
Project Status: Construction
Project Overview:
The Duluth Traverse is a multi-use trail system linking neighborhoods and people to green spaces and our parks. It is a single-track, natural surface trail, purpose built for mountain bikes, stretching the entire ridge line of Duluth from Lester Park in the east to Chambers Grove Park in the west. It will be the first 100-mile trail system of its kind, wholly within an urban environment. This project is a shared vision between The City of Duluth and the Cyclists of Gitchee Gumee Shores (COGGS). In 2018, the Duluth Traverse was designated as a regionally significant trail by the Greater Minnesota Regional Parks and Trails Commission.
Although purpose built for mountain biking this trail is intended to be a multi-use trail system open to all human-powered users. Besides mountain bikers, trail users include: runners, hikers, dog walkers, fat tire winter bikers, snowshoers and backcountry skiers.
When completed the Duluth Traverse Trail System will improve upon, expand, and link existing multi-use trail centers at Lester Park, Hartley Park, Piedmont/Brewer Park, Spirit Mountain and Mission Creek Park.
Duluth Traverse Visitor Profile Survey
In 2021, a visitor profile survey was conducted along the Duluth Traverse in partnership with the Greater Minnesota Regional Parks and Trails Commission and the Parks & Trails Council. The survey found that the total summer traffic on the trail ranges from nearly 26,500 visitors at Hartley Park to roughly 8,500 visitors at Haines Road.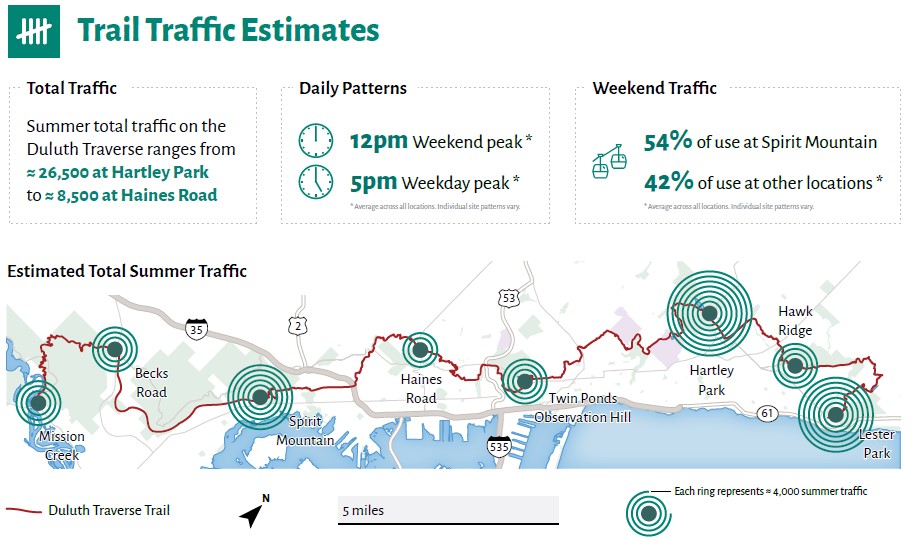 In addition to demographic information about users and total counts, the survey compiled information about purpose for visiting, trail experience, and estimated traffic flows at seven sites including details about timing, and east and west bound travel. The primary use of the trail is mountain biking (61% of users) followed by hiking (24%). The trail is an important tourism destination for Duluth with roughly 30% of trail users being tourists. 
The full results of the survey are available here: Duluth Traverse 2021 Summer Visitor Profile
Project Update:
2020 COMPLETED CONSTRUCTION:
Brewer Park Connector: roughly a ½ mile segment that begins on Skyline Parkway and terminates up the hill in Brewer Park, tying into an existing trail.
UMD DT Spine: this segment beings at Arrowhead Road and is approximately one mile in length before it terminates on Brainerd Avenue.
Craft Connector Trail: this trail begins at Enger Park and terminates on West Superior Street and is approximately ½ mile in length.
2021 COMPLETED CONSTRUCTION:
Downer Park Trail: this lollypop trail is roughly 1.5 miles in length starting at Vermilion Road.
2022 COMPLETED CONSTRUCTION:
Shortline Park to Ely's Peak Tunnel: leading from Shortline Park on Beck's Road to Ely's Peak Tunnel, this segment replaces the eroded path that led to the railroad tie stairway.
Lyman Street Bypass: this trail segment created a bypass for the one block, on-street section in the Lincoln Park neighborhood which now allows users to continue on a natural surface trail.
Gogebic Street to Grand Avenue Chalet: There is now a Traverse trail adjacent to the DWP trail.
Fairmont Neighborhood Trail: this trail segment parallels the DWP and filled the gap between Kingsbury Creek (above the Lake Superior Zoo) and Hwy 35 (at Keene Creek Park).
Central School Trail: A new segment through the Central School property filled the largest remaining gap in the Traverse; it connects the Observation Hill Neighborhood to the Marshall School area, which leads to Chester Park.
Project Partners:
Cyclists of the Gitchee Gumee Shores (COGGS)

Greater Minnesota Regional Parks and Trails Commission (GMRPTC)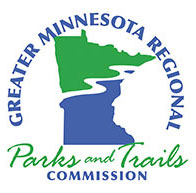 Minnesota Department of Natural Resources