Spirit All-Weather Mountain Bike Loop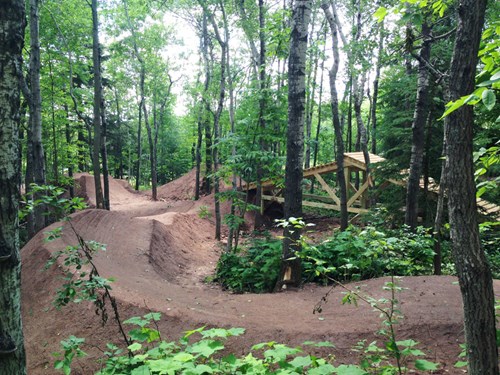 Project Status: Construction
Project Overview:
In addition to the Duluth Traverse, the City proposes to cement Duluth's status as a regional mountain biking hub by building a +5.3 mile hardened all-weather mountain bike trail accessible from the upper and lower chalet at Spirit Mountain Recreation Area. At present, the missing piece in making Duluth an international mountain biking destination is the availability of all-weather riding opportunities. Currently, bikers planning a biking vacation to Duluth risk not being able to ride due to wet trail conditions. This uncertainty dissuades visitors and race-organizers from holding events here. This trail would serve as an alternative venue for race events that were planned in other parts of the city and witnessed cancellation due to wet conditions.
This trail is not just for tourists and is intended to serve the west Duluth neighborhoods of Norton Park, Fairmount and Riverside as a neighborhood-accessible cross country mountain bike trail. Despite a relatively high trail density in Duluth and around Spirit Mountain, this portion of town does not have a nearby cross country mountain bike trail system. People will now have direct access via the Duluth Traverse Trail to additional looped trail experiences from the Norton and Fairmount Neighborhoods connecting the upper park on the hill with the lower part of the hill. As part of this design a dedicated predominantly downhill leg of the trail shall double as a beginner "easiest" Trail for the downhill mountain bike operations at Spirit Mountain.
Project Update:
No update at this time
Project Partners:
Spirit Mountain Recreation Area, Cyclists of the Gitchee Gumee Shores, Minnesota Interscholastic Cycling Association, and the University of Minnesota-Duluth Cycling Team.