Keene Creek Park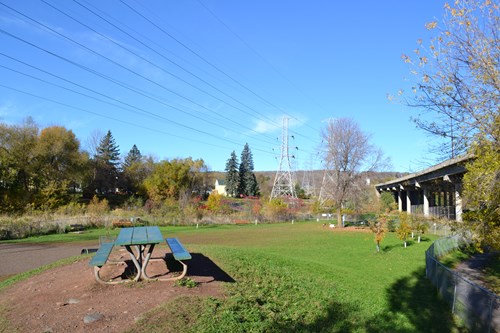 Project Status: Post Construction
Project Overview:
Keene Creek Park improvements are based on recommendations made by the City Council approved St. Louis River Corridor Neighborhood Parks Mini Master Plans, passed in June 2016. Keene Creek Park is a 13 acre urban park in the Fairmount Neighborhood, with a unique location under Interstate 35 bridge decks and adjacent to Grand Avenue. Two branches of Keene Creek run through the park and join together at the southeastern edge of the park. The park currently features a dog park, basketball court, tennis courts, playground, skate park and several paved trails. Keene Creek Park is one of thirteen parks along the St. Louis River Corridor that was identified as part of the larger St. Louis River Corridor Initiative. These parks are eligible for designated 1/2 and 1/2 tax funds.
Project Update:
Keene Creek Park enjoys a new playground, expanded and improved dog park, interior paved trail system, and new signage. Remaining items on mini-master plan include improvements to the parking lots and basketball courts, skate park expansion, and the construction of Duluth's first progressive and fully adaptive mountain bike skills park. The bike skills park will be located on the south side of the creek, adjacent to Grand Avenue. The bike park is in design and fundraising phase. 
Funding Source:
The City of Duluth partnered with user groups and residents to develop a funding package. Funding includes City of Duluth half and half tourism tax, and Community Development Block Grant (CDBG) funds.