Cross City Trail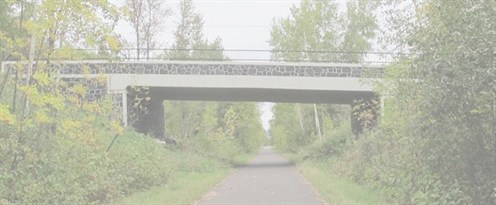 Project Status: Design underway for Segment 3 and Segment 6
Project Overview:
The Duluth Cross City Trail will be a 10.3-mile multi-purpose, non-motorized, accessible, paved trail system for users of all ages and abilities. The trail will provide a connection from the Lakewalk in downtown Duluth to the Willard Munger State Trail and Waabizheshikana: The Marten Trail in western Duluth, offering safe access to distinctive natural areas in western Duluth, while presenting exceptional views of the St. Louis River Estuary, and filling a gap in a significant state trail route from central Minnesota to the North Shore of Lake Superior.
Project Update:
With completion of Segment 2, the "River Route" from Carlton Street to Irving Park, completed in 2020 design work is underway on:
Segment 3, the "Keene Creek" section from Irving Park to Raleigh Street

Segment 6, the "Lower Route" section from Irving Park to Munger Trailhead
Funding Source:
Wayfinding project support for the existing trail was funded in part by a $31,901 Federal Recreational Trail Program grant from the Minnesota Department of Natural Resources.