Woodland - Hartley Green Infrastructure (led by St. Louis County)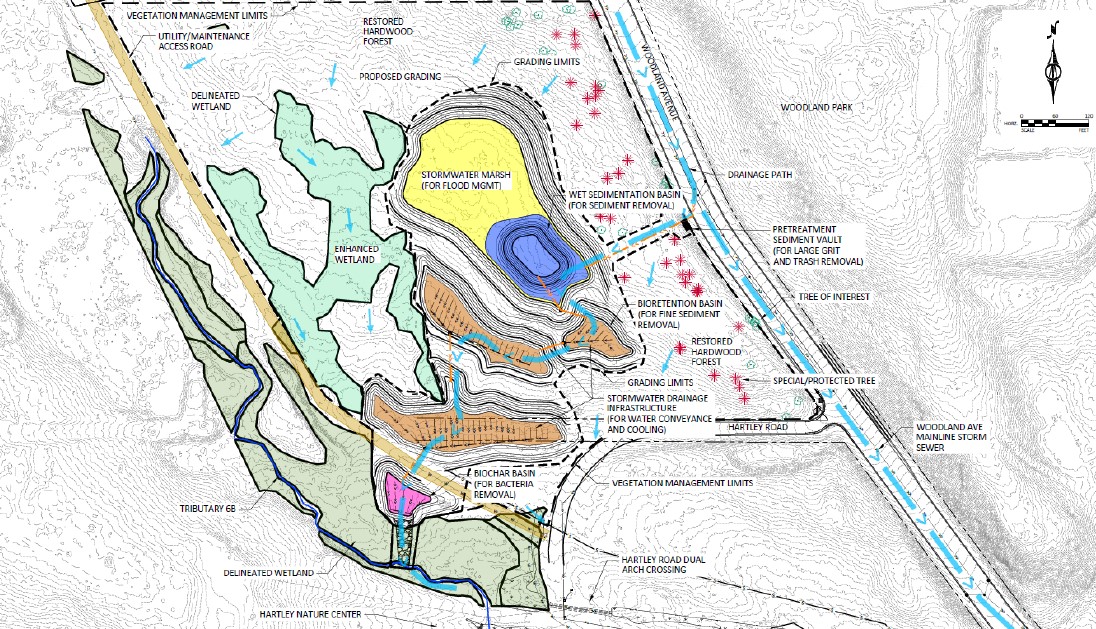 Project Overview:
St. Louis County is planning to repave Woodland Avenue from Snively Road to Anoka Street during the 2024 construction season. The project includes additional road improvements as described on the County's website: https://woodland-anoka-slcgis.hub.arcgis.com/. Although adding stormwater treatment is not a required part of the road project, the County and City recognize the value of adding treatment considering the proximity of Woodland Ave to the Hartley Natural Area. Currently, runoff from rain and snowmelt flushes salt, sand, other pollutants, and litter from the 117-acre Woodland neighborhood into Tischer Creek. If not properly managed, this polluted runoff can negatively impact this designated trout stream. 
The County and City of Duluth have elected to work together to integrate "green infrastructure" into this road project. Green infrastructure helps to protect streams and lakes by using vegetation, soil, and grading to help slow, capture, and filter stormwater runoff. The proposed project will divert some of the stormwater collected and conveyed down Woodland Avenue into specially designed basins and constructed wetlands where runoff will be stored and released at more controlled rates with pollutants removed through settling and filtration. The results will include cleaner, cooler water and reduced erosion, improving the wildlife habitat and water quality of Tischer Creek.
The project will be constructed in the northeast corner of Hartley Park adjacent to Woodland Avenue in an area heavily infested with buckthorn, tansy and other invasive plants. Currently, there are no trails in this portion of the park. Though the Hartley Park Master Plan shows potential for cross-country ski trails in this area, those trails have already been constructed elsewhere in the park.  By removing the dense invasive vegetation and planting a diversity of native species, the constructed naturalized stormwater elements (pond, wetlands, etc.) and surrounding uplands will be restored as attractive, diverse, native plant communities, which will provide improved habitat diversity and ecological health for the benefit of butterflies, birds and other wildlife.
Project Update:
The project is in the design and environmental review phase, with construction and planting planned for 2024 and/or 2025. Existing work to remove invasive species will continue in 2023 as well as after construction to help the new native vegetation out-compete buckthorn and other invasive plants.
For more information, please contact the St. Louis County Public Works Environmental Engineer at 218-625-3862 at andrewsc@stlouiscountymn.gov, or contact the City's Natural Resources Coordinator at 218-580-9150.
Project Partners:
St. Louis County