Lakewalk Transportation & Resiliency Improvements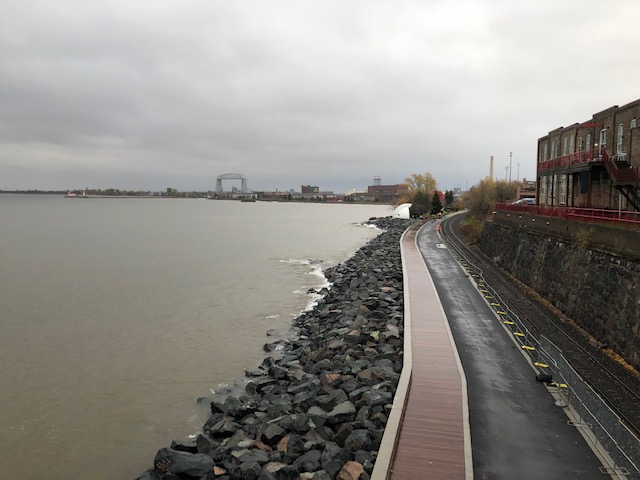 Project Overview:
The Lakewalk has experienced damage from past storm events and will experience future damage unless the City acts to ensure its long-term resiliency by mitigating the impacts of future storm events.  The Lakewalk Transportation & Resiliency Improvement project spans the Corner of the Lake to 26th Avenue East and will include shoreline restoration and enhancements, trail relocation and reconstruction, ADA accessibility improvements, including a bypass trail adjacent to Leif Erikson Park, improved wayfinding and connections between downtown and the Lakewalk, and implementation of eight pause areas.
Project Update:
Planning for the Lakewalk Renewal was completed in December 2021. Funding for final design and construction has been secured.  The final design timeline for the Lakewalk, from the Corner of the Lake to 26th Avenue East, will begin in fall of 2023. Construction will likely begin in spring of 2025.
A map of the project scope is available in the Important Documents section below.
Funding Source:
In July 2023, the City of Duluth was awarded an $8.2 million grant from the U.S. Department of Transportation Rebuilding American Infrastructure with Sustainability and Equity (RAISE) to support Lakewalk transportation and resiliency improvements. Additional project support includes $2 million from city bonding that was designated for storm repair.