Kitchi Gammi Park - Brighton Beach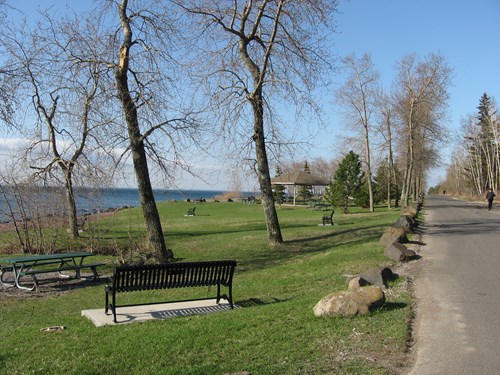 Project Status: Construction
Project Overview:
Kitchi Gammi Park (Brighton Beach) has experienced damage from recent storm events and will experience future damage unless the City acts to ensure its long-term resiliency by mitigating the impacts of future events. The City of Duluth, with the help of a qualified landscape architecture firm and coastal engineering firm, created a plan for improvements to Kitchi Gammi Park to ensure long-term sustainability and resiliency. This project will include new park landscaping and amenities, shoreline stabilization, improved access to the shore, and replacement of non-native plant species.
The City has contracted with LHB as a Landscape Architecture Firm and AMI Consulting Engineers as Coastal Engineer. Planning for the Brighton Beach Resiliency Plan was completed in December 2021.
Project Update:
Storm damaged shoreline restoration work, with support from FEMA and State of MN funding, began in fall of 2022 and is expected to be completed in summer of 2023. 
Additional shoreline restoration work and improvements to the park landscape and amenities are expected to take place in summer of 2023. 
City Engineering is managing the Brighton Beach road design and construction. The final road design is anticipated to be complete in the fall of 2023. The road construction project is expected to be put out for bids in winter 2023 to spring 2024 for construction in summer of 2024. 
The goal is to keep the section of the newly extended Lakewalk open during all phases of Brighton Beach construction. Upon completion of the park landscape restoration and improvements, the landscaped area will be temporarily fenced so that new turf can grow. Aside from the Lakewalk itself, use of Brighton Beach park areas will be limited to the improved pathways for several months, until the turf is well-established.