Harbor Plaza/Baywalk/Seawall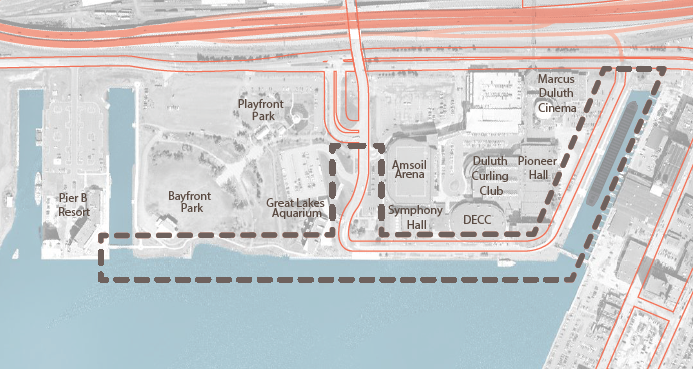 Project Status: Construction
Project Overview:
The seawall along the DECC waterfront has suffered deterioration and storm damage and is in need of significant rehabilitation. Adjacent to the seawall is city-owned property comprised of a segment of the Baywalk trail system and Harbor Drive, which are also impacted by the seawall deterioration and potential reconstruction. This waterfront area is expected to be the terminal for the growing cruise ship industry, and a redesign of the public spaces between the seawall and the Duluth Entertainment and Convention Center is necessary.
The City of Duluth, with the help of qualified consultant team, created a plan for improvements to the seawall and adjacent public areas starting at Minnesota slip (Blue pedestrian bridge) to Pier B. This project has incorporated significant stakeholder and public engagement. In addition to the seawall and cruise ship infrastructure, the plan created a waterfront redesign, including alternatives to Harbor Drive functionality, access to the DECC and public spaces, programmable areas to be utilized by the public, stakeholders and the DECC, Baywalk design and amenities, and other identified stakeholder and community needs.
Project Update:
The consultant team includes:
Landscape Architecture: Confluence
Civil Engineering: SEH
Coastal Engineering: AMI
The City of Duluth is currently in the final design phase of the project, which includes replacement of the damaged seawall and aging infrastructure along the waterfront behind the DECC. This process will create and define a new harbor plaza area by reimagining the use and function of the waterfront and Harbor Drive between the Minnesota Slip Bridge and Bayfront Festival Park. Design concepts include accommodations for the Great Lakes cruise ship industry, more intentional resting spaces, and improved walking and gathering areas.
With the final design nearing completion, the project is expected to go out for bids in July 2023, with contractor selection anticipated in summer 2023. Construction is anticipated to start fall of 2023 and is expected to be completed by fall 2025.
Funding Source:
2020 State Bond Funding
Federal EDA Grant for Cruise Ship Terminal
Timeline:
We are currently in the final design stage.
Construction is anticipated to begin Spring 2023 and be completed by Summer of 2024.