Police Explorers
Law enforcement is often a calling that people feel at a young age and should be carefully considered. Police Explorers is a program that gives young adults the opportunity to explore a career in law enforcement. The Police Explorers meet as a group nearly every Sunday in the evenings from 6 – 8:30 p.m., from September to April. At the end of our season in April, Duluth Police Explorers compete in a statewide competition in Rochester, MN against other Explorer Posts at a 3-day conference.
Goals of the Duluth Explorer program are to:
Help young adults gain practical knowledge and experience in the career of Law Enforcement.
Engage in program activities to encourage personal development.
Experience positive leadership from adult and youth leaders and be given opportunities to take on leadership roles.
Have a chance to learn and grow in a supportive and caring environment.
Learn about police protocol, procedures, and tactics.
Qualifications
Young adults who have graduated 8th grade and are ages 15 through 21
Complete a written application
Participate in an interview with an interviewing committee
Pass a background investigation
To begin exploring, download the application here.
Contact Info: Officer Bob Leclaire: rleclaire@duluthmn.gov
---
History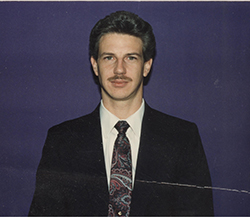 Duluth Police Explorer Post #244 was given the number 244 to honor fallen officer Gary Wilson who paid the ultimate sacrifice on April 10, 1990. Gary Wilson proudly held badge #244 when he was killed in the line of duty.