Youth Firesetters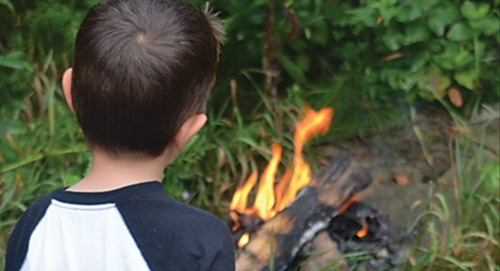 F.I.R.S.T Fire Intervention Referral Safety Team
The Duluth Fire Department is the lead agency of the Fire Intervention Safety Team. This group includes experts from law enforcement, fire departments, probation services, social services, the court system and clergy members, who are willing to share their knowledge to help educate youth firesetters. During this class, adolescents are taught fire safety behaviors and good decision making. The team's mission is to provide education intervention to youth that exhibit fire setting behaviors, while educating parents on how to help their children stay safe from fires. This reduces the incidence of property loss, injury, and death due to fires set by youths.
Troubled children may set many small fires that are extinguished by parents, teachers and other caregivers. Many of these fires go unreported to the fire departments or law enforcement. Each youth set fire set shows a lack of understanding about how powerful a fire can be and poses a significant risk to the child and others. All youth-set fires should be seen as red flags.
If you know a youth who is playing with fire, please give them the opportunity to attend this free class. It could prevent the loss of property and even save lives. Learn what can be done to prevent this tragedy from happening to you or someone you love.
Did you Know?
Children between ages 10 and 17 account for about 50 percent of arson arrests.
In 2013, children started 300 fires in Minnesota
Even if a child starts a small fire, it is a big deal. Fires can casue property damange, injury and death.
Help is available to stop this behavior.
Youth Fire Setting Prevention
Be a good role model. Use fire safely and talk to your kids about the dangers of fire.
Keep fire tools secured and locked up.
Look for signs of fire misuse including unexplained scorch marks or melted areas in clothes, furniture, toys, paper and outside areas. 
Talk to your child if you notice signs of fire misuse and call 218-730-4397 for help
Classes
Classes are approximately 120 minutes long and will be held on a scheduled day that works for the youth and the instructor(s). There can be multiple attendees in one class or a one-on-one class can also be arranged. The class is meant to be geared towards youth between the ages of 6 and 17. Pre-school aged children will be worked with on a one on-one basis.
The class consists of:
Fire Education
Fire Science
Good Decision Making
What fire can do
What the purpose of fire is
Reasons why youth set fires
Community impact and consequences of fire setting
Please note, the youth has to be at the class at the scheduled time. If you need to reschedule your youth's class, please contact Fire Marshal Sandy McComb at 218-730-4397 no later than 1 week prior to the scheduled class.
Contact
Fire Department
Business: 218-730-4394
Stations: 218-730-4400
Life Safety: 218-730-4380
Fire Marshal: 218-730-4398