Noah Hobbs
Noah Hobbs
Councilor At Large
Term Expires:
1/4/2024
Phone:
218-409-6656
Email:
nhobbs@duluthmn.gov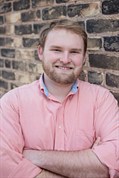 Noah moved to Duluth in 2007 to attend the University of Minnesota Duluth where he graduated in 2011. Hobbs went on to earn a Master's in Public Administration from Hamline University graduating in 2013. He was elected to the Duluth City Council to serve in an At Large position in 2015.  He was appointed to serve in the same capacity in 2022.  He has served as Council President and Vice President. Hobbs has lived in West Duluth for over ten years with his wife, and their dog Ramsey.
Hobbs has worked for over 10 years community development having worked at the Arrowhead Economic Opportunity Agency in the past and currently employed at One Roof Community Housing. Hobbs has led several initiatives through his service on the council.  Hobbs created and Co-Chaired the Red Tape Reduction Task Force, working to create a more intuitive regulatory environment.  Noah has also served as a Duluth Economic Development Commissioner and as a Board member to the Duluth 1200 Fund.  He led efforts to create the canoe and kayak storage found at Brighton Beach, Chambers Grove and Park Point.  Hobbs also led efforts to open Duluth's Warming Center in partnership with St. Louis County and various non-profit organizations. 
Hobbs has also served in other various capacities; serving as a co-chair to a statewide task force with the League of Minnesota Cities focused on Transportation Network Companies.  Hobbs was a Governor Tim Walz appointee to the Compensation Council.  He has also served as a board member to Program Aid to Victims of Sexual Assault (PAVSA), the Northern Lights Express Alliance, Visit Duluth, the Metropolitan Interstate Council, Community Action Duluth, Neighborhood Housing Services of Duluth, the Duluth Public Arts Commission, Merritt Park Community Club, and St. Louis River Corridor Coalition.
Currently Noah serves as a board member to CHUM, the Lake Superior Zoo, is the Treasurer for the Duluth Affordable Housing Coalition and the Duluth Public Utilities Commission.  Hobbs also serves as a high school baseball coach.
Contact
Duluth City Council
City Hall, Room 330
411 West First Street
Duluth, MN 55802
218-730-5700